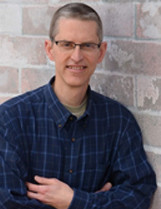 Cameron S. White, Ph.D. is a licensed psychologist whose practice focuses on providing general psychological services to adult clients ranging from young adults to those later in life. Dr. White received his doctoral degree at the University of Nebraska-Lincoln and completed his internship at the VA Medical Center in Kansas City. He was trained as a generalist, but also in specific areas including cognitive behavioral treatment, substance abuse/co-occurring disorders, and psychological assessment. He has worked in several settings including community mental health, Corrections and Health and Human Services. He was clinical director of the Critical Incident Stress Management for a state agency for over 10 years. He has been a licensed psychologist in Nebraska since 1996. Dr. White has served on several committees and advisory boards related to mental health and substance abuse issues.
Dr. White's therapeutic orientation is shorter-term cognitive-behavioral provided individually or in a group format. He also uses other methods based on the client and the presenting issues. Dr. White takes a collaborative and respectful approach with his clients and he enjoys being a part of the process of helping people make positive changes in their lives. He believes in recognizing and building off of strengths when working with people. Dr. White has a special interest in the following issues:
*Anxiety disorders
*Depressive disorders
*Stress management/problems in daily life
*Men's issues
*Addictive and co-occurring disorders
*Providing coordinated behavioral health services –working with primary care physicians
*Providing services to military, law enforcement, criminal justice and emergency services
professionals
*Providing consultation services to individuals and organizations on stress reduction
*Providing training on psychological topics
Dr. White is credentialed with several insurance companies. He also accepts client who pay privately.