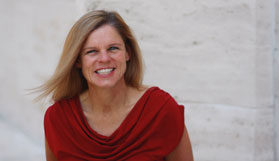 Jennifer Eckhout, LIMHP works with people of all ages providing individual, couples, family, video and home-based therapy. Jennifer graduated from the University of Nebraska-Lincoln with her Masters degree in Marriage and Family Therapy. Post-graduate school experience includes sixteen years of employment with Best Care and Continuum EAPs as well as a part-time private practice.
While with Continuum EAP, she received certifications in wellness coaching, financial social work counseling, pain management, and nicotine cessation facilitation. Jennifer also provided trainings in various areas of wellness such as stress and resiliency, forgiveness, happiness, and psychology of money matters. She is trained in Critical Incident Stress Management (CISM) and has provided debriefings for police and fire personnel.
Her experience includes, but is not limited to, working with issues of anxiety, depression, trauma/PTSD, co-dependency, chronic mental illness, victims of abuse/neglect, relationship issues, and work-life balance concerns. She takes a solution-focused, strengths based approach in counseling. Jennifer joined Lifespan Psychology Associates as an Independent Provider in August 2017.